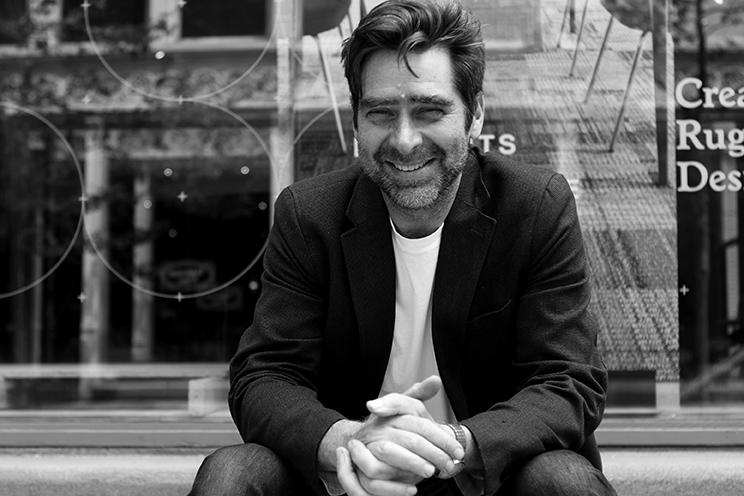 Vanessa Irzyk is an abstract painter living in Boston who embraces the possibilities of paper. She creates illusions to three-dimensional space without the bulk of stretched canvas, which we've come to expect in serious abstract painting. Irzyk continually tries new investigations into spatial points of view, in progressive series. For example, a frontal surface in the Flat Zen Series was created with soft washes of cheerful colors softly blurring into each other, and a tight pattern of what could be insect colonies or warring tribes; the Fixed Point Series shifts the interplay of shapes into macro view on a circular canvas, as if peeking down a microscope, with a tight pattern scurrying above and behind the larger elements. Shapes painted in the Side Angle Series appear like distorted letters from an unknown alphabet, with thick sides implied by a sharp drop-shadow, falling or floating in space; the patterning here is less flowery and appears more like fencing or swathes of visual data moving across a screen.
Irzyk's work is shocking in that it remains non-representational, non-political, and free of dogma. Irzyk claims that the repetition and abundance of interconnecting shapes is purely meditative. However, one can't help but make the connection to the Pattern and Decoration (P&D) movement in New York in the 1970s – 80s, which sprang from the equal rights movement. More contemporaneously, Irzyk's work possesses a similar level of detail, scale and movement as Hillary Harkness paintings of colonies of females circa 2001-2008. Recently, the artist ventured into the realm of "shaped paintings", which decades before had been embraced by Masters including Frank Stella and Elizabeth Murray. Building upon that history with acrobatic ease, Irzyk's latest work cleverly overlaps and interconnects cut-out shapes--our favorite looks like chainlink fence. We look forward to seeing this newest series develop!
Vanessa earned a Bachelor of Fine Arts (BFA) at Massachusetts College of Art & Design, and currently resides in Boston, where she teaches art in a Montessori school. Irzyk has gained recognition for her work in Boston including a Fellowship from the Massachusetts Cultural Council, inclusion in deCordova Sculpture Park and Museum's Corporate Program, which highlighted site-specific works in Cambridge, and the Mayor's Gallery in Boston's City Hall. Irzyk has had multiple solo exhibitions in the Northeast including Beverly, Boston, Brookline, Cambridge, and Provincetown; her most recent solo exhibit was held in summer 2018 at Co-Creative in New Bedford (all MA). Her work has been included in several museum and institutional exhibitions. Beyond Massachusetts, Vanessa has participated in the Artist Residency program at Vermont Studio Center, two or three-person shows in Nashville and Washington D.C., and her work is included in the 'flat files' program exhibited at TSA Gallery in NYC.