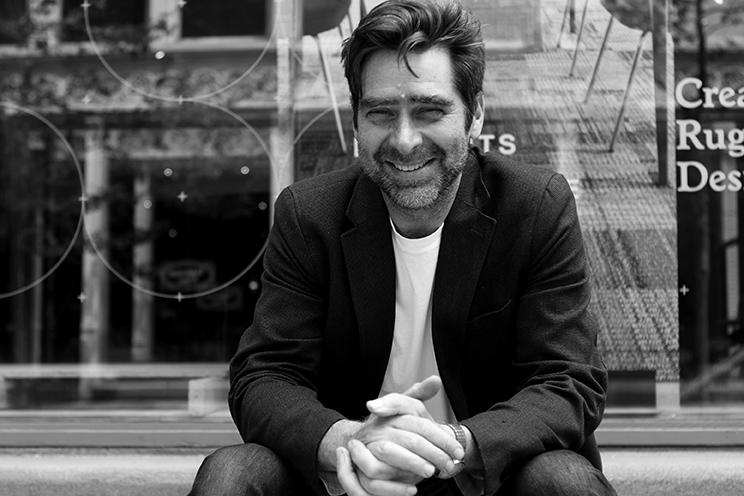 Emmy Mikelson's paintings occupy the liminal space between logic and pure feeling. Overlapping geometric shards of color, ranging from transparent to opaque, create the illusion of fanning/unfolding space. Mikelson's work appears mathematical, and even computer generated… maybe because it is. Or at least it starts that way.
Having developed a set of predefined rules, Mikelson utilizes software programs to generate digital renderings. The mechanics of physically translating the renderings using paint and brush prove a worthy challenge. Her paintings synthesize design intent and design response, which is known as parametric design. In other words, her work follows a plan from start to finish, and can be altered with simple changes to an algorithm, a technique originating with Spanish architect Antoni Gaudi. As meticulous as the paintings are, it is the handmade quality that inspires closer viewing. Seams of paint are built up where layers meet, tiny brushstrokes, and subtle shadows add volume to otherwise flat, geometric shapes. The resulting paintings appear flawless largely due to Emmy's unique process of staining.
Floating planes and orbs painted in a trompe l'oeil style to resemble fur can be traced through several bodies of work. The motif of abstracted furry forms floating in a fractured color space paired with flat black circles lend a feeling of doom or inescapability. The orbs in the Nutrient Bath Series appear to be morphing or dividing like cells while approaching the event horizon, perhaps remarking on the vulnerability of non-human beings born during our age of anthropocene.
Emmy Mikelson's work has been exhibited extensively in New York including recent shows at Brooklyn's Art Cluster Gallery, the Wassaic Project, and two exhibitions of Displaced Plan a collaboration with Charlotte Becket, at La MaMa Gallery in NYC and the Munson-Williams-Proctor Arts Institute in Utica. Emmy's videos have been screened in Italy, Mexico and Finland. She is the co-author of And Another Thing: Nonanthropocentrism and Art (Punctum Books, 2016) and has participated in many academic panel discussions. In the summer of 2017, Emmy participated in the Labverde science and research residency in a rainforest reserve in Brazil. Her text and artwork have been included in experimental architecture journals including Nova Organa, KTISMA, and Moinopolis. Emmy graduated with a BFA from the University of Iowa and MFA from Hunter College, and lives in Brooklyn.
Photos courtesy of the Artist and Neesh.