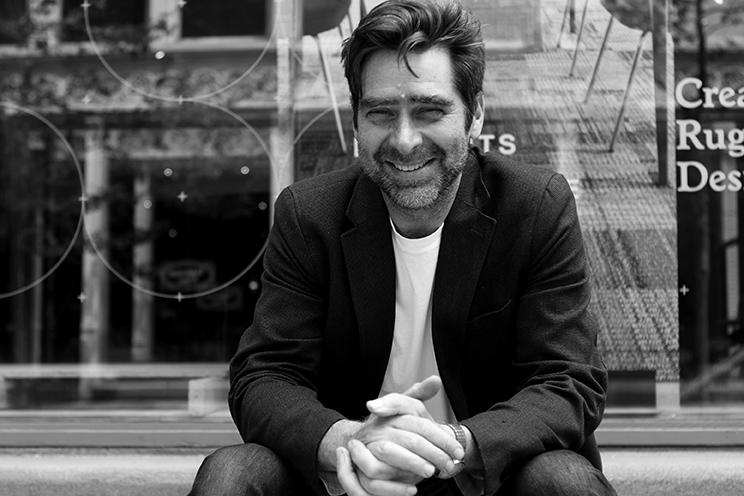 Amir Hariri combines drawing, painting and sculpture to examine the built environment and specific places from memory. His work incorporates his extensive professional background in design and engineering. With a highly analytical and disciplined art practice, he approaches painting as a building exercise which becomes the backdrop for the examination for the visceral qualities of deconstruction and reassembly. Layering carefully drafted graphite and ink drawings with various types of paint (oil, house and spray), concrete, plaster and wood, the artist incorporates the interplay of material roughness and austerity. With a system of visual coding, one may recognize blue as glass, flat as metal, and texture as concrete. Hariri's paintings depict fragments that would stand if built, and he often creates 3D models to be scaled for public sculpture.
"Ruins capture the beauty of life, age and service without being romantic," said Amir Hariri at a recent panel discussion on architectural depictions in art.
While his practice is dedicated to constructivist principles and conceptual thinking, his personal history informs his work on a deeper level. Amir was exposed to revolution and war as a teenager in Iran. Early encounters with death and destruction allow him to draw parallels between the destruction of buildings and the resiliency of their exiled inhabitants. He believes that strength and fragility go hand in hand. By using urban decay and renewal as a metaphor, he observes larger societal concerns, the evolution of cities, and the [in]stability of political structures.
Amir Hariri was born in Tehran, and immigrated to the U.S. to attend college in the early 1990s, earning professional degrees in both engineering from Cornell and business management from Harvard University. Hariri spent over 10 years working on architectural design projects, and was offered a partnership in a leading design firm in New York. His specialty was architectural engineering for the integration of glass facades and interior elements and he contributed to largescale projects like airports, museums, stadiums, concert halls and the award-winning flight of stairs in the Apple Store. Amir transitioned from designing for the built environment, to conceptualizing it, in a very personal way. He spent 5 years studying painting and printmaking at the Art Students League of New York and has been developing this work since.
Amir has exhibited nationally and internationally, with pieces included in various public and private collections in the United States, Italy, Spain, Hong Kong and Japan. Recent awards include an Artist-in-Residence Fellowship at Museum of Arts and Design in Manhattan, an Artist Fellowship in Drawing from the New York Foundation for the Arts, and was a hot pick in the Artist's Studio Program at Smack Mellon in Brooklyn. Hariri currently works out of his studio at the Elizabeth Foundation for the Arts.
Photos courtesy of the artist